Mumford's
top ten most
cited articles

Mumford's citations and articles published by year
I first became aware of Professor Michael Mumford at the 2008 Creative and Innovation Management Conference at Buffalo State College. He gave a keynote presentation Examining the Leaders of Creative Efforts: What do they do, and What do they Think About? (Byrne, Barrett, Mumford, & Vessey, 2008).

My attendance at this conference came at an important time in my life, and influenced an important decision. A decision I am pleased to say has worked out well. I attended this conference as part of the decision process about whether or not I would apply to the Buffalo State creative studies master's program. These two days in May influenced an important decision and continue to be fundamentally important.

The conference experience was wonderful, I found myself surrounded by kindred spirits, and Dr. Mumford left a tremendous impression on me. His perspective on leadership and creativity corresponded with my own, and I had never heard any one articulate those views before.

There is another, and now more important, way Dr. Mumford influenced my experience at this conference. It is in his work that was cited in papers that were presented at the conference. There were nine papers, not including Byrne et al. (2008).

Because he was cited frequently in papers at the conference, Dr. Mumford was a voice in many sessions I attended. Among the presenters who cited Dr. Mumford in their work, are the names Cabra, Keller-Mathers, Murdock, and Puccio. Dr. Mumford has had an influence on the Buffalo State creative studies faculty who have had and continue to have a tremendous influence on me.

Looking deeper at the work referenced in the papers presented at the 2008 CIM Conference, Mumford, Zaccaro, Harding, Jacobs, and Fleishman (2000) and Scott, Leritz and Mumford (2004) stand out in the number of times they were cited and in relevance. Creating a citation report on the Web of Science database we find that Mumford, Zaccaro, Harding, Jacobs, and Fleishman (2000), is Mumford's fourth most cited work, and Scott, Leritz and Mumford (2004) is tenth. A review of the Web of Science top ten further highlights Dr. Mumford's influence, particularly in the areas of leadership and creative thinking skills.

Dr. Mumford touched my life with his keynote address that resonated with me at a critical juncture. His influence is further felt through the Buffalo State creative studies faculty. And since he is a prolific writer, I will continue to be influenced by Dr. Mumford's work. As of November 14, 2010, Dr. Mumfords work had been cited 1860 times. That's a lot of influence.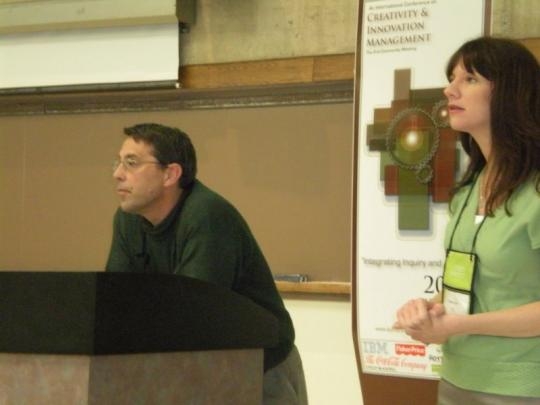 Dr. Michael Mumford and Dr. Cyndi Burnett at the 2008 Creativity and Innovation Conference at Buffalo State College.